Introducing: An Impact Fund that will transform the lives of more than 500,000 rural households in sub-Saharan Africa, while delivering a net Internal Rate of Return (IRR) for investors of 5%.
The Palladium Impact Fund will:
Alleviate poverty and empower women
Contribute to the 2X Challenge and the UN's Sustainable Development Goal #5
Improve the lives of at least 500,000 householders in sub-Saharan Africa
Create more than 3,500 jobs, of which at least 60% are for women
Our investments aim to improve the lives of rural households who are currently isolated from markets and services. We fund solutions that have the potential to improve access to productive resources, empower women as economic agents, and benefits households by overcoming gender barriers and addressing economic and social issues.
Why Palladium?
Our Experience: Palladium has spent the past 50 years implementing large-scale social change programs across the globe. We know what it takes to create real impact, and every investment we make benefits from that experience.
Financial Commitment: Palladium anchors the Impact Fund with a $5 million equity investment from our own capital base.
Value: Our management fees are competitive at 2%.
Pipeline: Alongside two existing direct investments, our experienced Impact Investments team has a dozen opportunities under due diligence and has sourced over 400 deals.
Local Network: Our Africa-based consultants provide investment leads, local knowledge, and access to country networks and expertise.
Measurement & Evaluation: Our expertise in impact measurement comes of decades spent implementing and evaluating programs for the world's largest bilateral donors, for whom efficiency, effectiveness, and value for money are paramount.
Our Impact-First Philosophy
At its core, impact investing puts capital in service of society. We are impact-first investors, improving the lives of disadvantaged populations by addressing real social challenges in measurable ways.
We know that greater financial returns can be delivered if social impact is deprioritised. The Palladium Impact Fund is uncompromising in the positive impact we create, and welcomes investors who truly want to move the needle on the world's greatest challenges.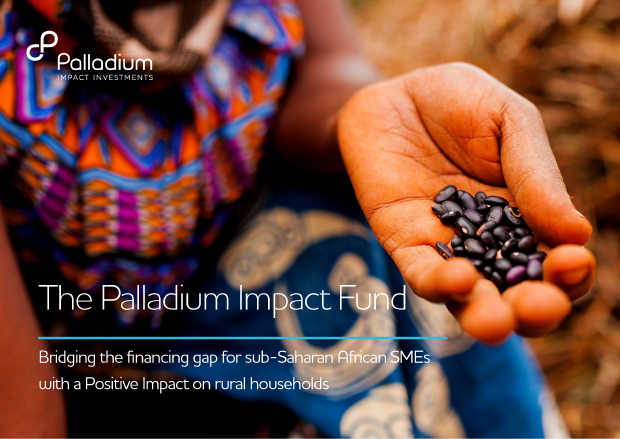 Contact Impact.Investing@thepalladiumgroup.com
.............................................................................................................
Read about our Direct Investments: